$2.2 Million
EBCE contributions to local organizations for COVID-19 relief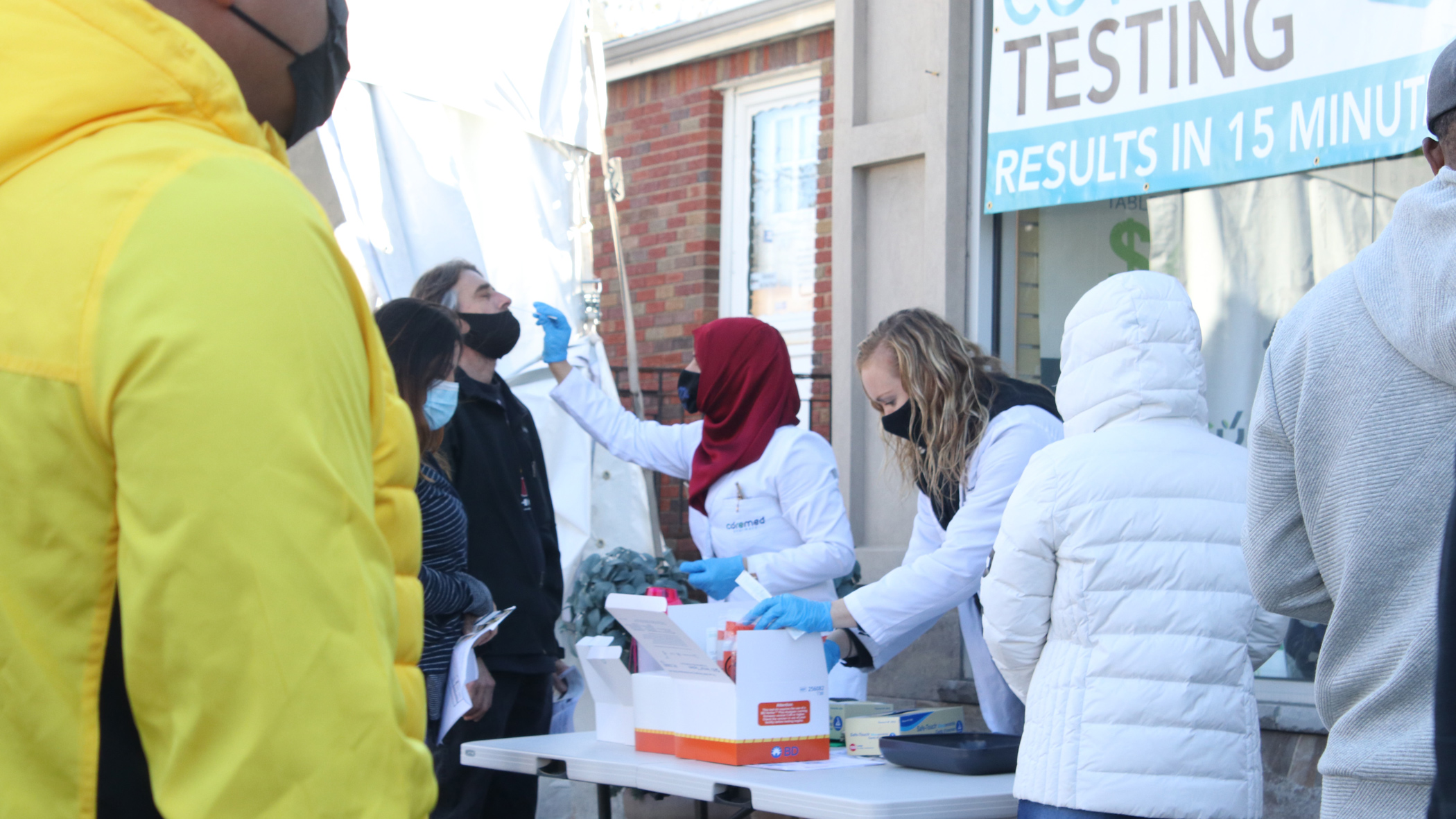 Supporting local community grant funds
$1,100,000 total donated to date
To ensure that these funds are reaching every part of our jurisdiction, EBCE's Board allocated an initial $1.1 million split proportionally across our service area. Contributions were provided to funds in every city we serve, and recipients included Oakland COVID-19 Relief Fund, Fremont Family Resource Center, Hayward Community Relief Fund, and Alameda County COVID-19 Disaster Relief Emergency Fund/Disaster Relief Recovery Fund.
Donating to local foodbanks & food aids
$175,000 total donated to date
EBCE has issued grants to local support programs at Alameda County Community Food Bank and Meals on Wheels of Alameda County, among others. EBCE encourages companies, organizations, and individuals who are able to do so to also make contributions to local businesses and support programs. With this funding, EBCE launched a corporate match program for donations that more than doubled EBCE's contribution. See this press release for a list of generous donors.
Contributing to local community efforts
$649,000 total donated to date
There is so much good charitable work happening throughout the East Bay, and we wanted to support that in the form of community grants. EBCE issued a series of solicitations to provide small grants to community-based organizations (CBOs) serving residents and/or businesses in EBCE's service area. Specifically, EBCE sought to help those who have been impacted by the COVID-19 health crisis. The results can be found here:
Supporting local medical and healthcare organizations
$245,000 total donated to date
During a pandemic, staying healthy is the top priority, and supporting our frontline healthcare workers is critical to making that happen. EBCE carved out funds to donate to local hospitals and healthcare facilities throughout our service area.
Offering flexible bill repayment options
EBCE has suspended the return of non-paying customers back to PG&E service and is suspending collections activities. While EBCE does not ever shut off power to customers, during normal operations — after providing notices and a grace period to non-paying customers — EBCE eventually returns these customers back to PG&E service. Currently, all of EBCE's collections and customer return activities have been suspended. EBCE is also working to implement flexible payment plans for customers impacted by the COVID-19 crisis.
Information & Updates
We will be updating this page as the COVID pandemic continues to up-to-date efforts to help our community. For more information or details, please contact Dan Lieberman at dlieberman@ebce.org.
Our Contribution Breakdown
| | | | |
| --- | --- | --- | --- |
| Berkeley Relief Fund | Berkeley | $79,000 | City Relief Fund |
| Hayward Community Relief Fund | Hayward | $126,500 | City Relief Fund |
| Oakland COVID-19 Relief Fund | Oakland | $278,500 | City Relief Fund |
| Alameda County COVID-19 Disaster Relief Fund/Disaster Relief Recovery Fund | Alameda County | $88,500 | City Relief Fund |
| Livermore: Support for CityServe Tri-Valley, Open Heart Kitchen, and Tri-Valley Haven Shelf/Food Pantry | Livermore | $79,000 | City Relief Fund |
| San Leandro: City of San Leandro COVID-19 Relief Efforts | San Leandro | $79,000 | City Relief Fund |
| Fremont Family Resource Center | Fremont | $193,000 | City Relief Fund |
| Dublin: City of Dublin COVID-19 Relief Efforts | Dublin | $50,000 | City Relief Fund |
| Newark: Newark Food Box Distribution Efforts | Newark | $5,000 | City Relief Fund |
| Pleasanton: Operations of the COVID-19 Testing Center at the County Fairgrounds | Pleasanton | $5,000 | City Relief Fund |
| UCSF Benioff Children's Hospital Oakland | Oakland | $25,000 | Healthcare Organization |
| St. Rose Hospital (Hayward) | Hayward | $15,000 | Healthcare Organization |
| Alameda County Health System Foundation | Alameda County | $90,000 | Healthcare Organization |
| Axis Health (Pleasanton) | Pleasanton | $10,000 | Healthcare Organization |
| Abode Services | Fremont | $10,000 | Community Organization |
| Adamika Village | Oakland | $10,000 | Community Organization |
| Building Opportunities for Self-Sufficiency (BOSS) | Berkeley | $20,000 | Community Organization |
| Center for Elders' Independence | Oakland | $10,000 | Community Organization |
| Cornerstone Community Development Corporation | San Leandro | $10,000 | Community Organization |
| Covenant House California | Oakland | $10,000 | Community Organization |
| Daily Bowl | Union City | $10,000 | Community Organization |
| East Bay Asian Local Development Corporation (EBALDC) | Oakland | $10,000 | Community Organization |
| East Oakland Grocery Coop | Oakland | $10,000 | Community Organization |
| Eden Housing | Hayward | $10,000 | Community Organization |
| Eden I&R | Hayward | $10,000 | Community Organization |
| First Presbyterian Church of Hayward | Castro Valley | $10,000 | Community Organization |
| Fremont Family Resource Center Corporation | Fremont | $10,000 | Community Organization |
| Healthy Black Families, Inc | Berkeley | $10,000 | Community Organization |
| Mandela Partners | Oakland | $10,000 | Community Organization |
| NorCal Resilience Network | Oakland/Berkeley | $10,000 | Community Organization |
| Pacific Center for Human Growth | Berkeley | $10,000 | Community Organization |
| Street Level Health Project | Oakland | $10,000 | Community Organization |
| Sunflower Hill | Livermore | $10,000 | Community Organization |
| The Davis Street Community Center | San Leandro | $10,000 | Community Organization |
| Bay Area Community Health | Fremont | $10,000 | Community Organization |
| Tri-Valley Haven for Women (TVH) | Livermore | $10,000 | Community Organization |
| Asian Pacific Environmental Network (APEN) | Oakland | $5,000 | Community Organization |
| Bay Area Community Services (BACS) | Oakland | $5,000 | Community Organization |
| Centerville Free Dining Room | Fremont | $5,000 | Community Organization |
| Centro Legal De la Raza | Oakland | $5,000 | Community Organization |
| Choices for Freedom | Oakland | $5,000 | Community Organization |
| City Slicker Farms | Oakland | $5,000 | Community Organization |
| Creating New Hope | Bay Area | $5,000 | Community Organization |
| Drivers for Survivors | Fremont | $5,000 | Community Organization |
| East Bay Agency for Children | Oakland | $5,000 | Community Organization |
| East Bay FeedER | East Bay | $5,000 | Community Organization |
| Easterseals Northern California | Oakland | $5,000 | Community Organization |
| Eden Area Interfaith Council | Hayward | $5,000 | Community Organization |
| Healthy Communities, Inc/Healthy Oakland | Oakland | $5,000 | Community Organization |
| Hively | San Leandro | $5,000 | Community Organization |
| Jewish Family and Community Services East Bay | Berkeley | $5,000 | Community Organization |
| LifeLong Medical Care | Berkeley | $5,000 | Community Organization |
| Local Ecology and Agriculture Fremont (LEAF) | Fremont | $5,000 | Community Organization |
| Mercy Retirement & Care Center's Mercy Brown Bag Program | Oakland | $5,000 | Community Organization |
| Mujeres Unidas y Activas | Oakland | $5,000 | Community Organization |
| Oakland Communities United for Equity & Justice – Self-Help Hunger Program | Oakland | $5,000 | Community Organization |
| Partners for Change Tri-Valley | Livermore | $5,000 | Community Organization |
| Prospera Community Development | Oakland | $5,000 | Community Organization |
| Re-plate, Inc | Oakland | $5,000 | Community Organization |
| Safe Alternatives to Violent Environments | Fremont | $5,000 | Community Organization |
| Society of St. Vincent de Paul of Alameda County | Oakland | $5,000 | Community Organization |
| Spectrum Community Services | Hayward | $5,000 | Community Organization |
| St. Mary's Center | Oakland | $5,000 | Community Organization |
| The Berkeley Food Network | Berkeley | $5,000 | Community Organization |
| Arsola's Distribution Center and Community Services | Oakland | $10,000 | Community Organization |
| CityServe of the Tri-Valley | Pleasanton | $10,000 | Community Organization |
| Downtown Streets Team | Hayward | $10,000 | Community Organization |
| Eden United Church of Christ | Hayward | $10,000 | Community Organization |
| Family Resource Navigators | San Leandro | $10,000 | Community Organization |
| Fred Finch Youth & Family Services | Oakland | $10,000 | Community Organization |
| Global Communication Education & Art (GCEA) | Oakland | $10,000 | Community Organization |
| Kitchen to Ward (Affiliated to E Biz Solutions Inc.) | Bay Area | $10,000 | Community Organization |
| La Clinica de La Raza, Inc | Oakland | $10,000 | Community Organization |
| Owning My Own Truth Inc. | Oakland | $10,000 | Community Organization |
| San Leandro Boys & Girls Club | San Leandro | $10,000 | Community Organization |
| Senior Support Program | Pleasanton | $10,000 | Community Organization |
| Sister to Sister 2, Inc. dba Serenity House | Oakland | $10,000 | Community Organization |
| Tiburcio Vasquez Health Center | Hayward | $10,000 | Community Organization |
| Tri-City Volunteers Food Bank and Thrift Store | Fremont | $10,000 | Community Organization |
| Tri-Valley Haven for Women | Livermore | $10,000 | Community Organization |
| Trybe Inc. | Oakland | $10,000 | Community Organization |
| Viola Blythe Community Service Center | Newark | $10,000 | Community Organization |
| Children's Hospital Oakland | Oakland | $50,000 | Healthcare Organization |
| Meals on Wheels Alameda County | Alameda County | $85,000 | Food Security |
| Alameda County Foodbank | Oakland | $85,000 | Food Security |
| Washington Hospital (Fremont) | Fremont | $15,000 | Healthcare Organization |
| St Rose's Hospital (Hayward) | Hayward | $15,000 | Healthcare Organization |
| Axis Community Health (Livermore) | Livermore | $15,000 | Healthcare Organization |
| To be determined food bank in Tracy selected in consultation with city | Tracy | $5,000 | Food Security |
| GRID Alternatives | Oakland | $33,000 | Community Organization |
| Cypress Mandela | Oakland | $33,000 | Community Organization |
| Tri-Valley Career Center at Chabot-Las Positas Community College District (TVCC) | Dublin | $33,000 | Community Organization |