Close

Alert
The Clean Cooking Contest is now closed.
Thanks for your participation. We've loved seeing your creations!
Enter to win an induction cooktop!
Ava is launching the all-new Clean Cooking Contest to spread the word about induction cooking—and we want you to win a portable induction cooktop. Participation is as simple as: Cook a dish. Post a photo or video. And you could win a portable induction cooktop.
Mild or caramelized, savory or sweet, this month is all about cooking squash on induction. Show us your favorite squash recipe—pumpkin, butternut, spaghetti squash and more! Best of all, enjoy a quick clean up on induction afterward—with a cool and flat cooking surface
July Contest

Annissia T.

Annissia won with both Hong Kong milk tea and black sesame sweet soup cooked on a loaner induction cooktop from our lending program!

May Mix-Ins Contest

Kyoko T.

Kyoko won our May Mix-Ins Contest with their clever use of newspaper to keep their induction stovetop free of spills!

New Year Nibbles Contest

Julie P.

Julie P. started an insightful conversation about the benefits of induction cooking for the New Year Nibbles contest!
What should you post?
Content Guidelines
Post a photo or video that shows off your induction cooking skills. Your dish should be an interpretation of our monthly theme—anything from our suggested recipe below to something totally unique! And if you've borrowed your cooktop from the Ava lending program, we'd be thrilled to hear about it in your post.
Post as many times as you like! No cursing or rude content.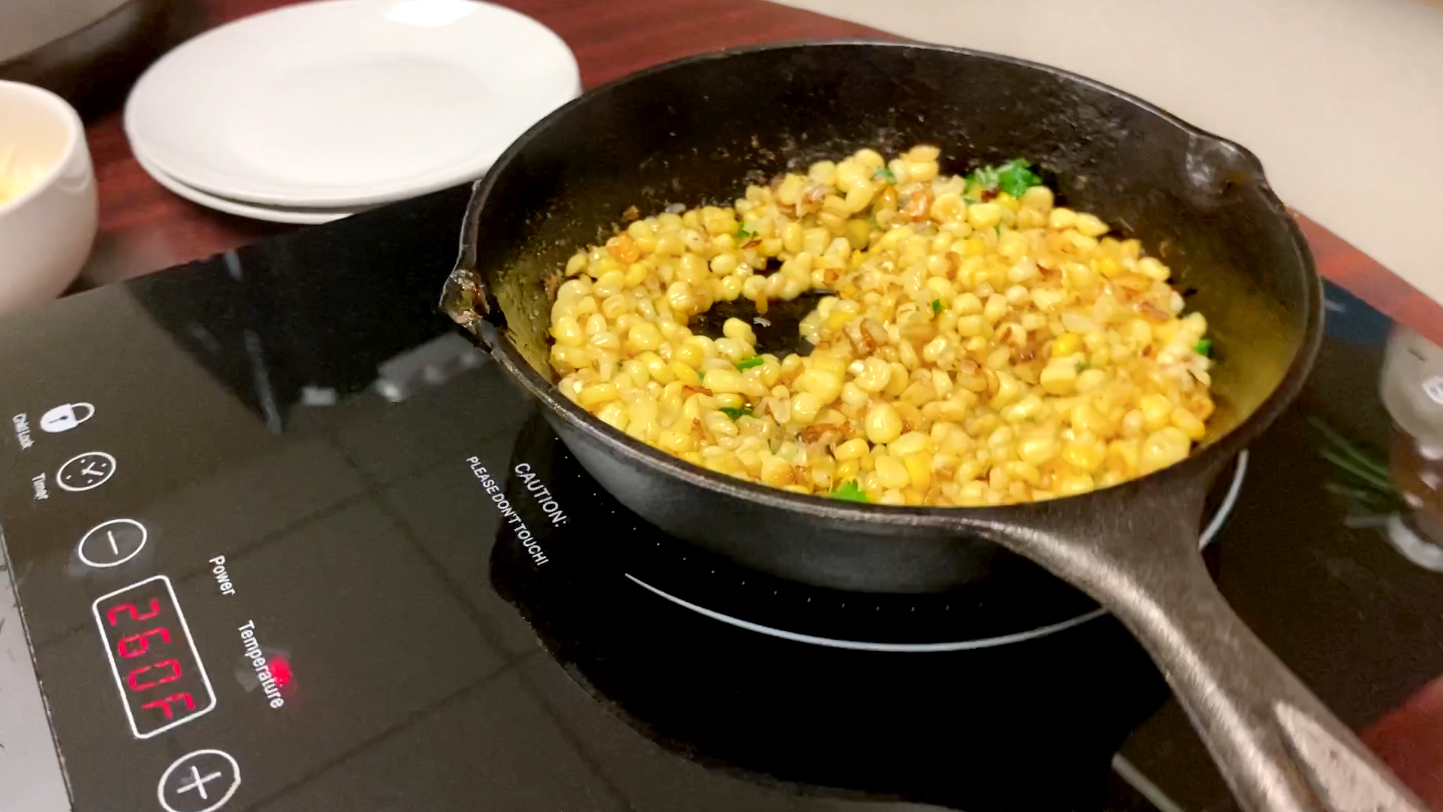 Whip up a fabulous dish on your induction cooktop or induction range inspired by the monthly theme

Follow Ava on Facebook, Instagram, and/or Twitter. Post a public post tagging Ava and using the hashtag #CleanCookingAva before 11:59 PST on October 31st, 2023

Each month we select a lucky winner to win a FREE portable induction cooktop.
Winners will be chosen monthly based on content and on the total number of interactions—so share your post far and wide!
Official Contest Rules
No purchase necessary to enter or win (click to expand)

1. General Rules: These are the Official Contest Rules for the 2023 Corn Cooking Contest. The contest begins October 1st, 2023, and closes on October 31st, 2023, at 11:59 p.m. Pacific Time.

2. Eligibility: All entrants must be eighteen (18) years of age or older. We will consider the owner of the account an entry is posted from the official "entrant." In order to receive a prize and to be deemed a winner, contest entrants must reside in Ava's service territory.

3. Indemnity: By entering, entrant agrees to be bound by these Official Contest Rules and hold harmless and indemnifies Ava and each of its directors, officers, employees, or agents against any and all liability, damages or causes of action (however named or described), with respect to or arising from either the entrant's participation or the receipt or use of the prizes awarded in this Contest.

4. How to Enter: To enter, you must post about induction cooking on Facebook, Instagram, or Twitter, tag Ava in your post, and use the hashtag #CleanCookingAva. Post content must follow the announced monthly theme and fit within the Ava brand--no cursing or rude content. No limit to number of posts per account. Entrant must have not won a prize the previous month. Ava is not responsible for lost, late, incomplete, inaccurate, or improperly inputted entries.

5. Entry Deadline: Entries must be received by October 31st, 2023, at 11:59 PM Pacific Time.

6. Winner Selection: One (1) potential prize winner will be selected by the Ava team no later than November 5th, 2023, from all eligible entries received. Ava's decision with respect to the selection of the potential winners shall be final. The potential winners will be notified on or about November 5th by direct message (DM) on the platform. Winner will be selected in part by number of interactions their post receives; interactions include things such as likes, shares, and comments on the given platform. Winner will need to provide their mailing address through direct message to receive prize.

7. Prize(s): The prize(s) consists of a portable induction cooktop. The approximate retail value of the prize is $150.00 The winning prize is not transferable to any other person. Winner is solely responsible for all applicable federal, state, and local taxes, and any expenses associated with the prize, unless otherwise specified. No substitution, cash equivalent or transfer of prize is permitted.

8. Prize Acceptance: All federal state and local laws and regulations apply. Prior to or at the time of delivery of the prize, the potential winner must execute any relevant paperwork within five (5) days of notification. Non-compliance within this time period may result in disqualification and the selection of an alternate winner, unless prohibited by law. Failure to accept delivery of the prize will constitute forfeiture of such prize. If the potential winner is not in compliance with these Official Contest Rules or if Ava is unable to contact a selected winner within a reasonable time period following the winner's selection, the prize will be forfeited and, at Ava's discretion, an alternate winner will be selected. In consideration of being awarded the prize, winner hereby agrees and consents, without further authorization, compensation or remuneration of any kind, to the use of the winner's name, voice, picture, submitted posts, and/or likeness in any and all advertising, promotions and other publicity conducted by Ava.

9. Official Rules/ Winners: Ava reserves the right to make rule changes without notice at any time. The decision of Ava in the interpretation of, and compliance with, the Official Contest Rules is final. By participating in this contest, entrant agrees to be bound by these Official Contest Rules and the decisions of Ava, which are final.

10. Tax Information: Liability for any applicable taxes imposed by any government, if any, on any prize won is the sole responsibility of the winner of such Prize.

11. Applicable Laws: This contest is subject to the laws of the State of California. Void where prohibited or restricted by law.
Need some inspiration for this month's submission? Try out this pumpkin French toast recipe—and feel free to put your own creative culinary twist on it.
Pumpkin French Toast
Ingredients:
4 large eggs
1/4 cup sugar
1/4 teaspoon fine salt
1/2 cup pumpkin puree
1 1/2 teaspoons ground cinnamon
1/4 teaspoon ground nutmeg
1/4 teaspoon ground ginger
1 3/4 cups whole milk, plus more if needed
1/2 cup heavy cream, divided
2 teaspoons vanilla extract
8 slices day old challah, sliced 1/2-inch thick
Butter or oil for cooking
Whisk eggs, sugar, and salt, then add pumpkin puree, spices, milk, 1/4 cup heavy cream, and vanilla. Mix and soak 4 slices bread in mixture for 2 minutes. Turn over and soak 2 more minutes. Heat generous amount of butter or oil and cook 4 slices bread until golden brown, 2-3 minutes. Flip and cook until other side is golden brown, 2 minutes. Remove from pan and repeat with other 4 slices of bread.

Adapted from this recipe.
Upcoming contest editions
NOVEMBER

Potatoes

Starchy, mild, satisfying
Excited to try out induction cooking for yourself? Ava makes it easy with our induction cooktop lending program.
Get the most out of your cooktop
Visit the Ava Induction Cooking Resources page to find:
Recorded video cooking class demonstrations
Induction cooking videos featuring renowned local chefs
Recipes
Cooktop operating instructions
Digital version of the Induction Cooktop Lending Kit welcome envelope
Get $250 to install a new electric range
Ava customers can qualify for a $250 rebate with BayREN for a new induction electric range when replacing an existing gas range.
Get cooking with induction
Sign up to borrow an induction cooktop for FREE at a lending location near you
Additional Resources
Home Electrification. The Switch is On is a collaborative campaign that supports home electrification by providing tools, resources, rebates, resources, and more. Download a copy of "Benefits of Electrification (PDF) (PDF)," a home electrification fact sheet.

Rebates, Financing & Free Technical Assistance. BayREN (Bay Area Regional Energy Network) helps residents and property owners improve the health, comfort and energy efficiency of their buildings. Visit BayREN.org to access rebates for electric appliances, financing options, and for free unbiased advice on home electrification upgrades.