Close

Alert
Thanks for completing the Induction Cooking Survey.
Ava values your input.
Close

Alert
Thanks for your interest in Ava's Induction Cooking Rebate program.
A representative from Ava will follow up in 3–5 business days
Residential Programs
Get Cooking with Induction
Reserve your induction cooktop today
Reserve now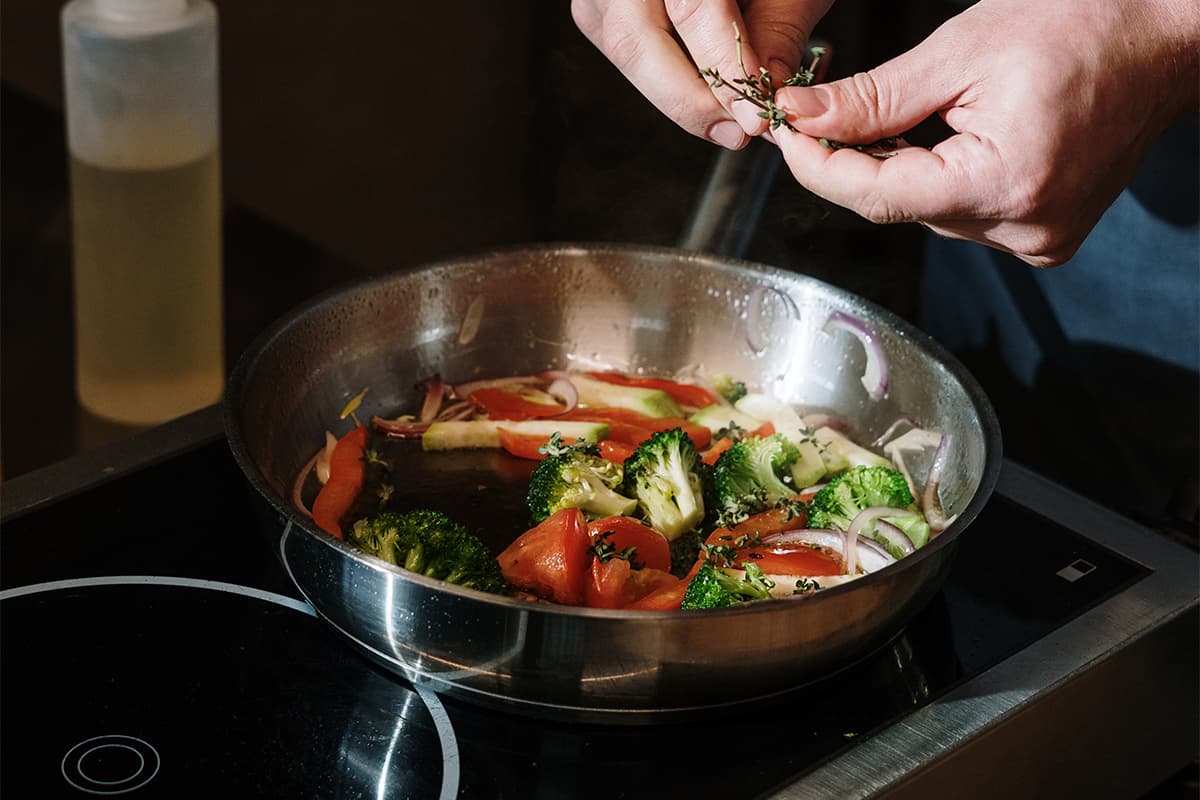 Ava has partnered with Acterra to provide you a chance to try induction cooking—for free!
Induction is the most energy-efficient cooking technology available today. It cooks food faster than traditional stoves and has the power to match. Professional and home chefs appreciate the precise, steady control, wider temperature range, and quick response time they get with induction cooktops. The difference is in the technology. See for yourself.
The Induction Cooktop Lending Program is a way for East Bay residents to borrow and "test drive" induction cooking in their home for free! This program is available to all East Bay residents—Ava customers as well as non-Ava customers who receive electric service from PG&E.
The Induction Lending Kit includes a portable induction cooktop, a compatible pan, cooktop operating instructions, recipes and carrying bag. The loan period is 14 days.
Get the most of your induction 'test drive'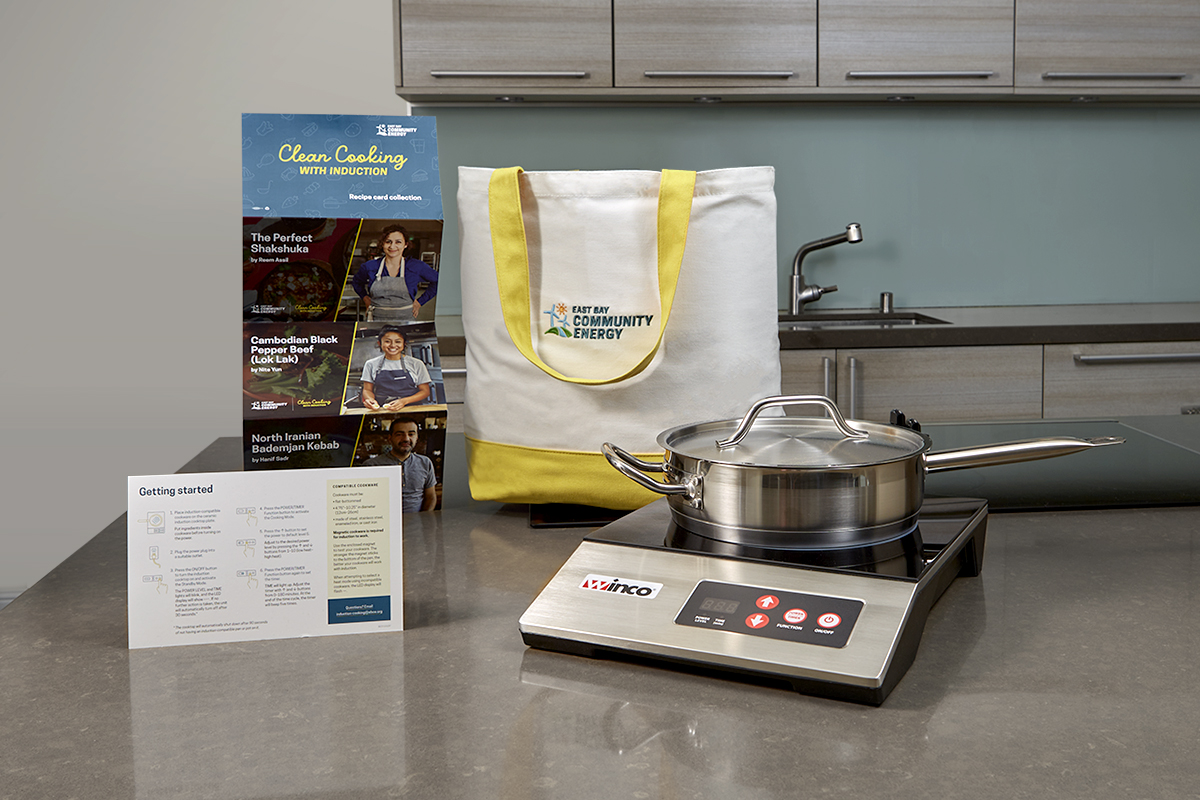 Frequently Asked Questions
Who is eligible to participate in the Induction Cooktop Lending Program?

This program is available to all residential electricity customers residing in the East Bay area—Ava customers as well as non-customers who receive service from PG&E. If you live in the city of Albany, Berkeley, Dublin, Emeryville, Fremont, Hayward, Livermore, Newark, Oakland, Piedmont, Pleasanton, San Leandro, Tracy, Union City, or the unincorporated areas of the County of Alameda which includes Ashland, Castro Valley, Cherryland, Fairview, San Lorenzo or Sunol, you are eligible to participate.

I can't find my address in the application form. How can I apply?

There are a few reasons your address might not come up in the form. First, please check that your home address is within our service territory (see above under eligibility). In some cases, unincorporated communities may be grouped by the largest incorporated city (e.g. Kensington addresses may show up under Berkeley). If you believe this is the case, please use other parts of your address, such as street address and zip code, in the application form to help locate your home. If you're still having trouble, but think you're eligible, please contact inductioncooking@AvaEnergy.org and we will follow up and help you out.

Are there similar programs for ineligible customers?

Pacific Gas & Electric (PG&E) is running a similar program through the Food Service & Technology Center, which is available to all residential customers in PG&E's service area. Visit their website at https://fishnick.com/itc/#learn to learn more.

How long can I borrow the induction cooktop?

Each lending session will be 2 weeks (14 calendar days). If you wish to borrow again, please submit another application and/or contact our program administrator, Acterra, for additional information or alternative options.

When should I expect to hear from Acterra that I can pick up the induction kit?

Acterra will reach out to you via phone or email when you are next in line to borrow a requested induction kit at your selected location. Please check the waitlist (shown below) to get latest information on wait times for your requested kit at your selected location. We are working to reduce wait times, but it may take 4~6 weeks until your requested kit is available to borrow.

What if I am late to pick-up and drop-off the induction kit?

There is a limited number of induction kits available for customers to borrow. It is OK to be late, but please pick-up and drop-off as soon as you are able so that the next customer can try induction cooking.
Ava is partnering with Acterra: Action for a Healthy Planet to implement the Induction Cooktop Lending Program. Acterra is an environmental nonprofit based in Palo Alto which brings people together to create solutions for a healthy planet, focusing on outreach, education, and local action to combat climate change. Acterra will administer the program, including coordination of pick up and drop off of the Induction Lending Kit for program participants.
Get induction help and inspiration
Visit our page to find:
Recorded video cooking class demonstrations
Induction cooking videos featuring renowned local chefs
Easy-to-prepare recipes
Cooktop operating instructions
Digital version of the Induction Cooktop Lending Kit welcome envelope
Get $250 to install a new electric range
Ava customers can qualify for a $250 rebate with BayREN for a new induction electric range when replacing an existing gas range.
Additional Resources
Home Electrification. The Switch is On is a collaborative campaign that supports home electrification by providing tools, resources, rebates, resources, and more. Download a copy of "Benefits of Electrification (PDF)," a home electrification fact sheet.

Rebates, Financing & Free Technical Assistance. BayREN (Bay Area Regional Energy Network) helps residents and property owners improve the health, comfort and energy efficiency of their buildings. Visit BayREN.org to access rebates for electric appliances, financing options, and for free unbiased advice on home electrification upgrades.