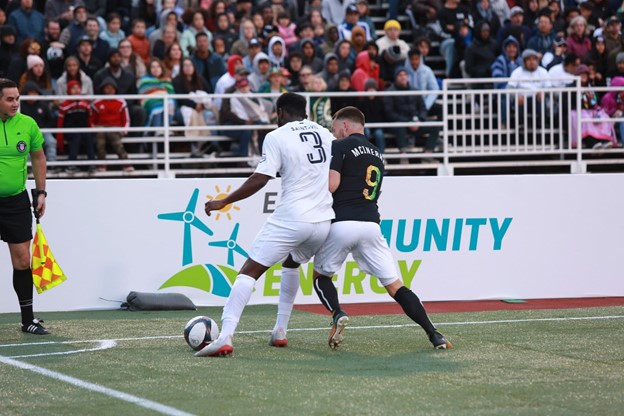 Oakland Roots to Become Climate Positive by 2022 in Partnership with East Bay Community Energy
Roots aiming to Become Among First Professional Sports Teams in the World to be Climate Positive
Oakland, CA - Oakland Roots SC today announced their commitment to be among the first professional soccer teams in the world to become climate positive. This means that Oakland Roots will go beyond achieving net-zero carbon emissions by removing more carbon dioxide from the atmosphere than they emit. The commitment builds on their partnership with East Bay Community Energy (EBCE), a local public power agency leading the transition to green power, and will be celebrated on the club's first 'Climate Night' against LA Galaxy II on Saturday September 18th.
As the first purpose-driven professional sports team in the United States, Roots' journey to become climate positive is part of the club's commitment to long-term community health. Roots has begun calculating the club's carbon footprint and will set reduction targets that meet or exceed recommendations from the IPCC, the United Nations body for assessing the science related to climate change. For areas where Roots can't currently reduce emissions (such as travel to away games by air), Roots will focus on purchasing offsets that support local tree-planting and environmental education efforts in Oakland.
Oakland Roots will assess and address the carbon impact of all facets of operations, including:
Energy use and waste at home games

Air and bus travel for away games

Business travel including scouting

Front Office operations including energy, waste, water, shipping, recycling, and employee commuting

Emissions generated by fans traveling to and from home games
"EBCE has sponsored Oakland Roots since they began in the East Bay in 2018 as a soccer club on a mission to be a model community partner," said EBCE CEO Nick Chaset. "This announcement exemplifies Oakland Roots commitment to the environment through operational practices that reduce their impact, and then planting trees locally to make up for emissions that simply cannot be avoided. It is this dedication to the environment and the East Bay community that fundamentally connects EBCE and Oakland Roots."
Roots fans will be asked to get involved with the initiative through surveys and volunteer opportunities. During 'Climate Night', Roots fans will also be encouraged to sign up for Renewable 100, EBCE's electric service that provides 100% California solar & wind energy, including supply from their new 57.5 megawatt wind farm in Livermore. Oakland Roots is also donating $510 on behalf of EBCE to local climate justice and tree planting organizations for every Roots goal this season.
"We're committed to playing our part in supporting the long-term health of our community, and that includes the environment," said Steven Powell, Chief Revenue Officer at Oakland Roots. "This commitment, and the support of East Bay Community Energy, is a natural and important step in supporting the City of Oakland's 2030 Equitable Climate Action Plan (ECAP), a 10 year plan to reduce greenhouse gases and improve the well-being for everyone in the Town."
'Climate Night' will be just the start of a collaboration with EBCE to promote green power and environmental health at all Roots home matches and through a digital storytelling education series focusing on clean energy and community sustainability topics.
To help the Roots set and achieve transparent, science-based targets for carbon emission reduction, the club is working with Sustainable Business Consulting, expert strategic advisors who help companies integrate sustainability across their entire organization. To learn more, click here for FAQs.
About Oakland Roots SC
Oakland Roots Sports Club is a professional soccer club which competes in the USL Championship (USL-C). Oakland Roots is the first, Purpose-driven professional team in the United States which seeks to harness the magic of Oakland and the power of sports as a force for social good.
About East Bay Community Energy
EBCE is a not-for-profit public agency that operates a Community Choice Energy program for Alameda County and fourteen incorporated cities, serving more than 630,000 residential and commercial customers throughout the county. EBCE initiated service in June 2018 and expanded to the cities of Pleasanton, Newark, and Tracy in April 2021. As one of 19 community choice aggregation (CCA) programs operating in California, EBCE is part of the movement to expedite the climate action goals of their communities and those of California. EBCE is committed to providing clean power at competitive rates while reinvesting in our local communities. More at ebce.org.
About Sustainable Business Consulting
SBC is a strategic consultancy based in Seattle that helps organizations drive business value through better environment, climate and social justice practices. SBC has helped over 220 organizations, ranging from Fortune 500s to Pro Sports Franchises and it has been named by B Corp as a 'Best in the World' organization four times.
##
Media Contact at EBCE
Dan Lieberman
dlieberman@ebce.org
925-579-1591